Dearest Gentle Reader… Season 2 of Bridgerton is now streaming on Netflix and, of course, I've already binged it (in just two days!!). So here I am, providing you with my spoiler-filled thoughts, even if no one asked.
SPOILERS BELOW*************
Alright, now I will say that I saw most of the important and powerful scenes on TikTok before I watched the second season. My algorithm knows I'm a sucker for enemies to lovers and my BookTok addiction translates to TV shows clearly.
Anthony Bridgerton is FINE, Jonathan Bailey portrayed a man written by a woman perfectly. The passion in his longing looks was unmatched. Every look, every touch, and every SMELL (weird but it somehow worked??) made me want to jump into the show. He is an extremely talented actor and I will definitely watch out for his future projects.
Ms. Kate Sharma was a queen, we love an independent woman, especially in the era of the show. I had only ever seen the actress, Simone Ashley, from the show Sex Education. She was merely a side character in that show, and she didn't have a chance to display any true acting ability. She did wonderful in this lead role.
The chemistry between the two was great… but now I must mention that I have a bit of a grudge. In season one of Bridgerton Daphne's relationship with the Duke was very well hashed out; you saw them fall in love and it made it believable. In season 2, they didn't really show Kate and Anthony falling in love. They attempted to portray love at first sight between the two, and I'll admit you can sense the fascination, but then all of a sudden, they're madly in love and can't keep away from each other.
As far as the side stories go, I thought they were interesting. The Featheringtons are crazy and I enjoyed seeing how their antics played out. I enjoyed learning a little more Eloise in this season, but I find her a little annoying. I like what she stands for and I respect her for not wanting to conform to society's expectations, but it seems like she's always messing things up.
I really didn't like any of the stuff with Collin, especially his visit to Marina. It gets so frustrating to me to see how blind he is to Penelope and her feelings.
Now that Pen has been exposed to the audience as Lady Whistledown we got to see a lot of how she worked which was very intriguing. At the end when Eloise discovers her identity I was on Penelope's side. She has been treated as a nobody her whole life and this was her way of being heard and expressing herself. Up until Eloise's incident with the queen, Lady Whistledown hadn't written a single bad thing about Eloise, proving her loyalty. She only exposed Eloise's secret to protect her.
Lastly, I wanted to bring up my favorite scene: when the Bridgertons and Sharmas host a ball and no one came. When Anthony called Hyacinth down to dance and they all swung around in a circle it brought me second-hand happiness.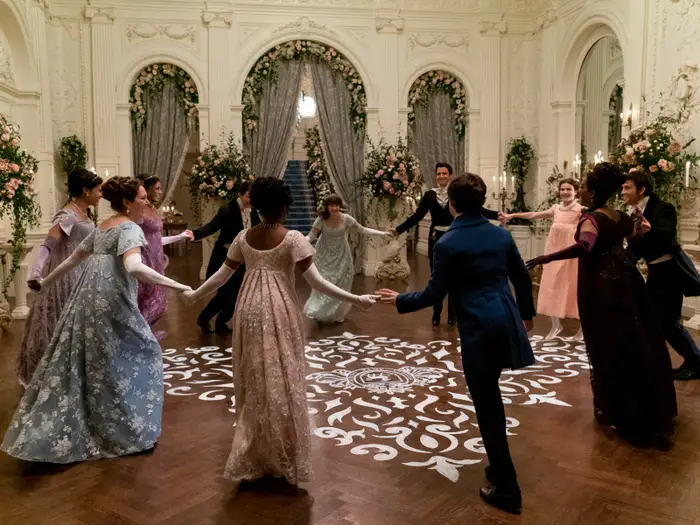 Overall, it was a great season, though in my mind it doesn't beat season 1. Can't wait for the next Bridgerton's love story!
Want to share your opinion on this season? Comment below of on our Instagram.